Jon Hamm on 7 Minutes in Heaven!
Hey Everyone! Today Above Average is releasing a 7 Minutes in Heaven with Mike O'Brien video. Today, Mike's guest in the closet is Mad Men's Jon Hamm! Does Mike steal a smooch from the dapper Don Draper? Tune in and find out!  http://bit.ly/16tzlxS Thanks! Team Above Average
Above Average NEW Show - My Drunk Aunts!!! (feat....
Watch Drunk Aunts give advice to Reno 911 and Bridesmaids actress Wendi McLendon-Covey: http://bit.ly/Zu7Srg And giving advice to It's Always Sunny in Philadelphia's Artemis Pebdani: http://bit.ly/16bKfsN The best advice is the advice that comes from your drunk aunts. Thanks for checking it out!  - Team Above Average 
Sorority Parody of Hold On
http://www.youtube.com/my_videos_edit?ns=1&video_id=Czte98Y2O94
Always a Bridesmaid?
As the next wedding season approaches, MTV is searching for those that have a calendar full of bridesmaid's obligations and engagements that range from elegant and over the top to casual and low key for a new documentary.  So if you have plans for lots of bridal bingo, bachelorette parties and enough bridesmaids' dresses to start your own collection, then MTV wants to hear from you!   If you...
4 tags
You should make bridesmaids gifs outta this video http://www.youtube.com/watch?v=hQmR5atwZPw —- While I'm not tech savy enough to make GIFs my self (awful, I know)- I'm leaving this here so other people can do it and submit them to Fuckyeahbridesmaids!
Hey just wanted to share the Bridesmaids/Groundlings love and see if you'd be kind enough to post about my Wendi McLendon-Covey Fan Site on this here blog. I'd appreciate it! And will link back! http://wendimclendoncovey.skl.me/    Keep up the awesomeness! Ash ——— Hey guys- check out this blog. It's awesome!
2 tags
2 tags
1 tag
I am Mrs. Iglesias
Bridesmaids reenactment!
Bridesmaids was nominated for an award!
Bridesmaids was nominated for Best Comedy Movie of the Year for the Virgin Media Movie Awards!  Currently, the movie is in 5th place and I definitely think that we can possibly push it up a few more places if not to first! (One person can vote as many times as they'd like) Please vote!
5 tags
My Fuckyeahbridesmaids New Years Resolution
While I know that 2011 was truly the year of Bridesmaids- I want to spend 2012 making this blog better. I plan on going through and updating all the tags on the site to make it easier to find things you want to use to share your Bridesmaids love with the world. But I want your advice on how to make it better as well! So- what can I do to make fuckyeahbridesmaids more fun and still relevant in...
3 tags
3 tags
4 tags
Fact - I can't watch or hear about Castaway...
6 tags
15 tags
4 tags
Vote for Morgan & The Mouse!
morganandthemouse: I'm in the running to be Dreaming and Wishing of Disney's Blog of the week! If you could be the best followers in the world and vote for me here that would be most excellent. You can vote once a day until the 5th of January. This blog is just getting started but if you vote for me and let me know in my ask box I'll let all my other followers know just how great you are.  ...
4 tags
4 tags
I need your help Bridesmaids Fans!!!
My mom and I looooved Bridesmaids- like we saw it in theaters a total of 10 times between the two of us. So I'm giving her a box of Bridesmaids awesomeness for Christmas. The DVD, a container of Jordan Almonds, a bag of baby carrots…. WHAT ELSE DO I PUT IN THE BOX? let me know! argonkitten.tumblr.com
4 tags
Fan video: "Bridesmaids | Party Rock Anthem"
You might appreciate this fan edited video on the movie: http://www.youtube.com/watch?v=08k1Vl_lkn8
4 tags
10 tags
4 tags
5 tags
Favorite moment of Bridesmaids:
seraphangel: When Annie realizes she's inadvertently made a Brady Bunch reference. Oh, George Glass.
1 tag
7 tags
3 tags
2 tags
3 tags
3 tags
1 tag
7 tags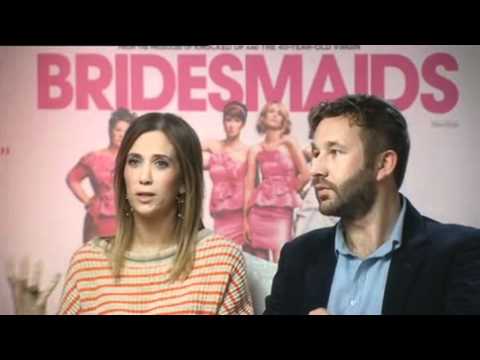 5 tags
details-magazine: 60 SECONDS WITH ELLIE KEMPER
6 tags
story of my life...
ijustdontgiveawhat:
1 tag